News & Reports
REPORT2014/08/21
The Global Job Openings to Job-Seekers Ratio in July 2014: 1.71
80% of industries increased their ratio over the previous month. Trends by industry have also been calculated using data taken since August 2013.
The operators of bilingual job board Daijob.com, Daijob Global Recruiting Co.,Ltd, have created a summary of the Job Openings to Job-Seekers Ratio for the end of July 2014. The Global Job Openings to Job-Seekers Ratio is a calculation of the supply-demand balance between job openings which require business conversation level in at least 2 languages and the number of job-seekers who are equipped with that ability (No. of Job Openings / No. of Job Seekers). A high ratio indicates that there is a high number of jobs available for a low number of job-seekers.

◆Global Job Openings to Job-Seekers Ratio by Occupation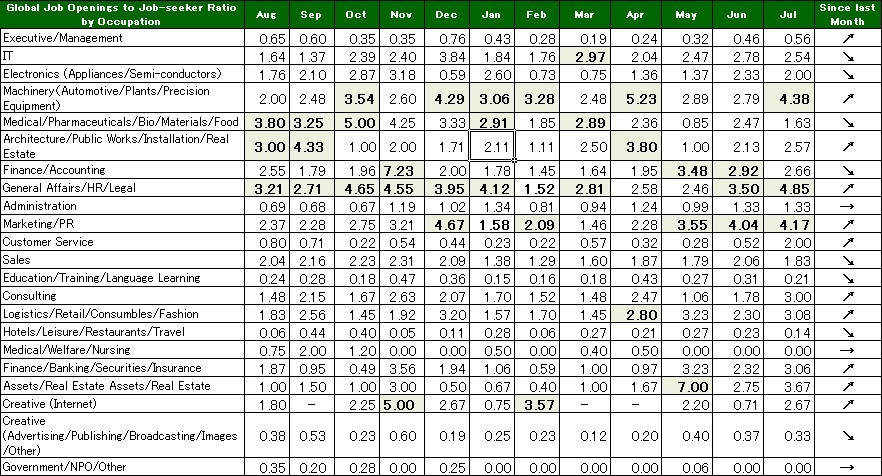 The highest ratio by occupation for July 2014 was "General/HR/Legal" at 4.85. This is the highest ratio for that industry we have seen since we started calculating in August 2013. In second place was "Machinery(Automotive/Plants/Precision Equipment)" at 4.38 and in third place came "Marketing/PR" at 4.17. The "Customer Service" ratio also exceeded 1.00 for the first time in its history, possibly because the number of job-seekers with the relevant experience dropped by a third since the previous month.

◆Global Job Openings to Job-Seekers Ratio by Industry

The highest ratio by industry for July 2014 was seen to be "Finance/Insurance" at 2.69. This was followed by "Agriculture/Mining" at 2.36 and "Manufacturing" at 2.24. All industries increased their ratios over the previous month with the exception of "Telecommunications" and "Electricity/Gas/Heating/Water supply".
Now that we have collected a year's worth of data, it is now possible to look at how that ratio has moved with time and view trends in the job market according to industry. The "Manufacturing" and "Wholesale/Retail" industries which had a declining ratio from August 2013 started picking up from February 2014. Although the "Travel/Food & Drink/Service" and "Medical/Welfare" industries don't have a high ratio, the ratio has doubled since February 2014.

At 1.71, the overall Global Job Openings to Job-seekers ratio for July is the highest it has been since November 2013. While the ratio dropped by 3% over the previous month in May, the ratio has seen a steady increase since February 2014.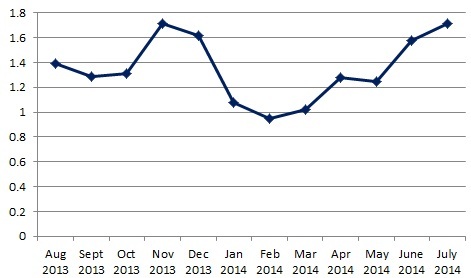 ---
---