News & Report
NEWS2020/4/27
【Economic Support Through Employment Promotion】Free 2-month listing for positions in the medical, retail, and other related industries. Supporting the employment of foreigners concerned about the current Covid-19 situation.
 Human Global Talent Co., Ltd.(Head office: Minato-ku, Tokyo; President: Tomoki Yokokawa), a subsidiary of Human Holdings Co. Ltd, which operates the bilingual job search site Daijob.com has launched a free job posting campaign on Daijob.com, in order to help resolve labor shortages in certain industries, such as healthcare and retailing, which are crucial in these times when our society is facing the new Covid-19 outbreak. coronavirus.

【Main Points】

✔ 2-month free listing on Daijob.com for positions in industries that are heavily influenced by the new Covid-19 virus
✔ Improving the labor shortage and contributing to the economic growth by promoting employment
✔ Supporting employment of bilingual human resources and foreigners who are worried about the current Covid-19 situation

◆Introduction
 The global economy is stagnating due to the worldwide spread of the new Covid-19 virus. Many foreigners living in Japan are concerned about their employment and livelihoods due to this impact of the virus. To counter this situation, we will work to maintain economic growth and resolve livelihood concerns by linking globally active Japanese and non-Japanese job seekers with companies, promoting employment that supports the economy.
■Details of support
1. Summary
・ 2-month free access to Daijob.com services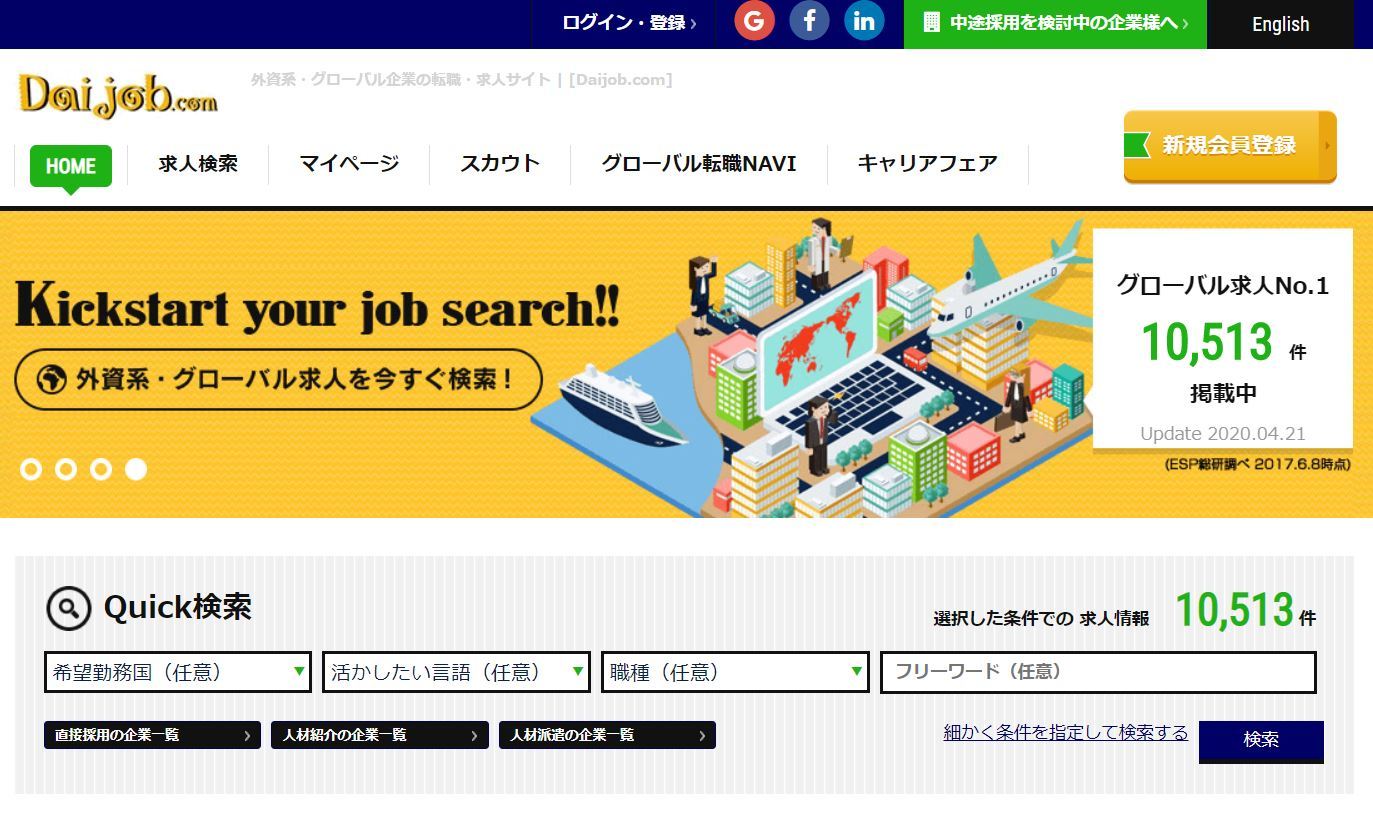 2. Published content
・Company information page
・Job posting (Up to 10 positions)
・Feature Article Page (Corporate PR Page)
・Scout Mail (Up to 50 mails/month)

3. Target industries
・Medical and welfare section
・Medical device manufacturers
・Pharmaceutical manufacturers
・Food manufacturers
・Distribution and Retail
・Transportation, warehousing, and logistics
4. Application Period  Monday, April 27 to Friday, May 15, 2020
Please contact us from the following contact information form.
https://go.daijob.com/2020-creating-employment
※Important notes
・To agree with handling of personal information, please complete and confirm the application form.
・In accordance with Daijob.com website listing regulations, we would like to ask you to fill in your company information and job posting details.
・After we receive your inquiry, we will contact you within two business days.
・In order to effectively support your recruitment, we would like to ask for your cooperation when communicating with our staff.
◆ Going forward
In a situation where the future is unclear, it is essential to support the livelihood of job seekers and secure reliable human resources for companies, in order to maintain stable. Being responsible for the support of global human resources, we will strive to maintain economic growth and stabilize employment through our business activities, especially during the current times of global crisis.
---
---