News & Report
NEWS2018/5/30
New Campaign Launched Offering Free Online Japanese Lessons for Foreign IT Engineers
~Two-month offer for any users finding new work through Daijob AGENT~
 Daijob Global Recruiting Co., Ltd, (Head office: Minato-ku, Tokyo; President: Yuji Shinohara; hereinafter referred to as Daijob), a business subsidiary of Human Holdings Co., Ltd., owner of Daijob.com, a job site for bilingual talent, will be launching a campaign to support Japanese learning with Human Academy Japanese Language School operated by Human Academy Co., Ltd. (Head office: Shinjuku-ku, Tokyo; President: Yoshitaka Arai.), also a subsidiary. The campaign is offering private online Japanese lessons free-of-charge for two months to foreign IT engineers who have found work through Daijob's recruiting service Daijob AGENT.

◆Background of Campaign

 According to the Ministry of Economy, Trade, and Industry(※1), there will be a shortage of approximately 370,000 IT personnel by 2020. As a result, companies are increasingly hiring not only Japanese IT professionals, but those from abroad as well. Yet while many foreigners are keen to work in Japan, they are stymied by their inability to speak Japanese.  This is why Daijob has partnered with Human Academy Japanese Language School. Our aim is to support language acquisition of foreign engineers wanting to work in Japan, while also helping to solve the domestic shortage of IT professionals.
◆Outline of Campaign

▼Campaign Name
Japanese Language Proficiency Support Campaign for IT Engineers
▼Terms
Open to foreign IT Engineers who have found work using Daijob's recruitment service Daijob AGENT by June 30, 2018
▼Details
Two months of private online Japanese lessons (up to 8 lessons, 45 minutes each) Free of charge
▼URL
For a more detailed, click here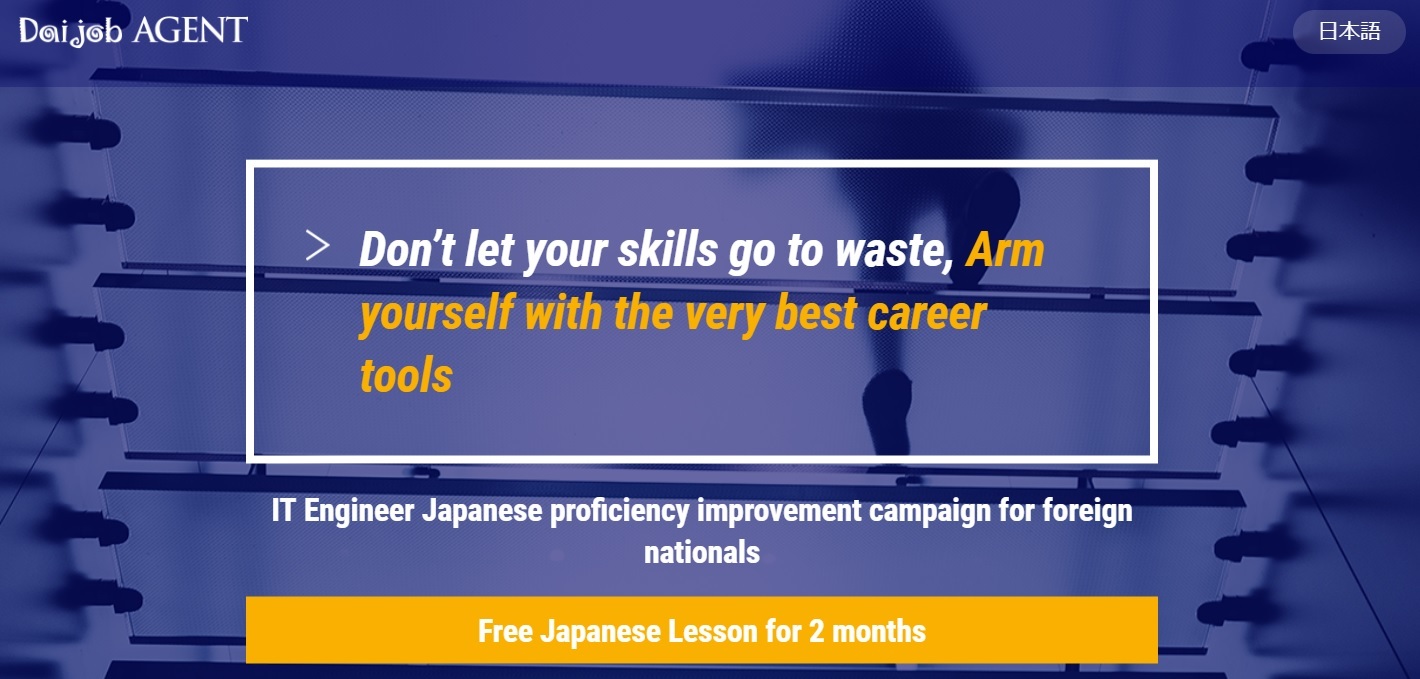 ◆Our Ongoing Mission
 With our mission of increasing the numbers of talent in global business, Daijob will continue to offer support by creating programs and initiatives to benefit professionals.
■Human Academy Japanese Language School http://hajl.athuman.com/
The Human Academy Japanese Language School has graduated thousands of students into the global workplace since being founded in 1987 in Osaka. Opening their Tokyo school in 1991 and Saga school in 2015, the academy currently invites students from all over the world to their three campuses in Japan. Additionally, they are offering Japanese language programs overseas, currently in Asia and Europe. The school's goal is to continue to focus on Japanese language education for foreigners, and going forward in partnership with the Human Group, they hope to cultivate a global work force by offering a comprehensive support system from education to employment.
※1出典:経済産業省「IT人材の最新動向と将来推計に関する調査結果」 http://www.meti.go.jp/press/2016/06/20160610002/20160610002.html
For a more detailed, click here. → New Campaign Launched Offering Free Online Japanese Lessons for Foreign IT Engineers (Japanese only)

---
---