ニュース&レポート
NEWS2017/10/4
Daijob is a Platinum Sponsor of the 24th Annual Japan Market Expansion Competition
Daijob Global Recruiting Co. Ltd (Head office: Minato-ku, Tokyo; President: Yuji Shinohara), a subsidiary of Human Holdings Co. Ltd, which operates the bilingual job search site Daijob.com, has opted to become a Platinum Sponsor of the Japan Market Expansion Competition (JMEC), a program aimed at strengthening the skill set of corporate executives. As part of this, on September 13, we started the Daijob Career Advancement Support Campaign to offer one winner free admission to the JMEC program.

The business program JMEC was founded in 1993 by the Australia & New Zealand Chamber of Commerce, and is currently supported by 18 foreign chambers of commerce, including those of the U.S., U.K., France, and Germany, among other countries.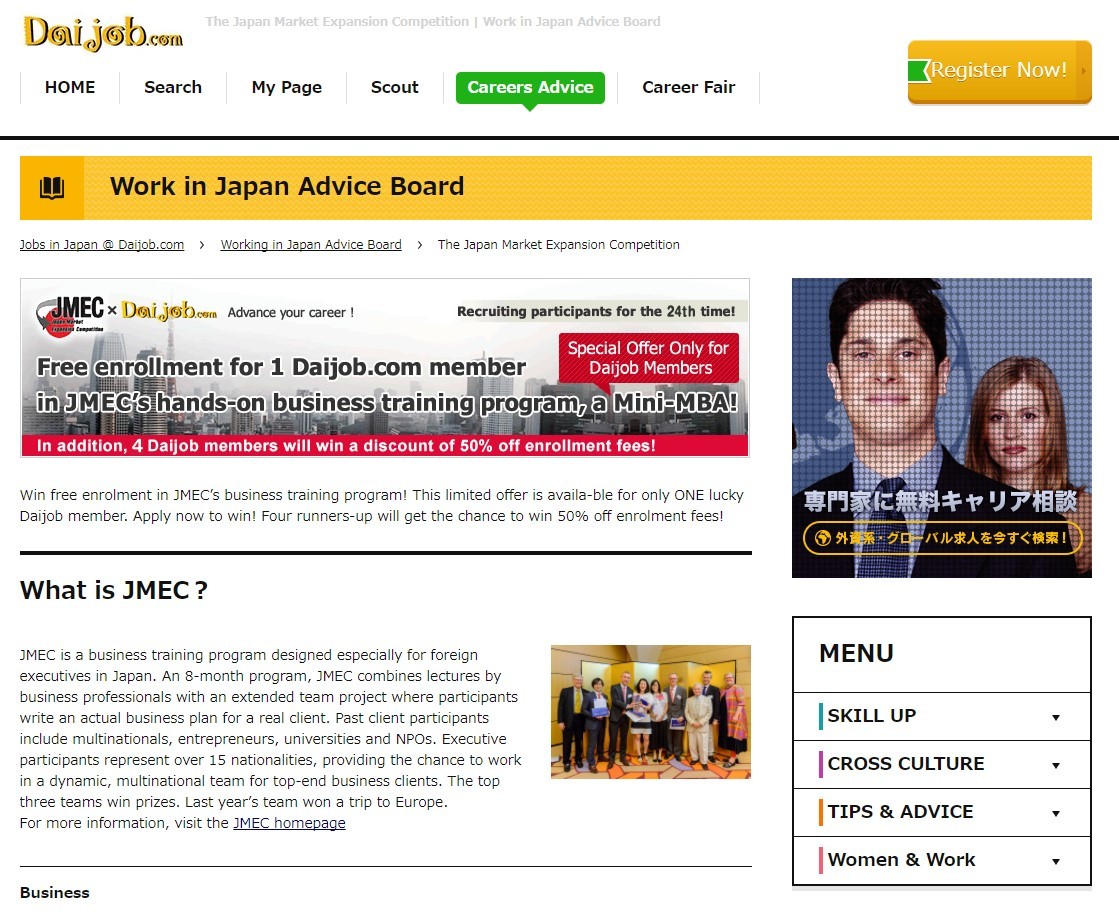 To promote the growth and development of foreign companies in Japan, JMEC aims to foster the next generation of business leaders. This year is its 24th annual program.

As JMEC is aligned with our corporate philosophy of "increasing global business through more optimal positioning," Daijob Global Recruiting has supported JMEC for 13 years, and this is our 11th year as a sponsor.

The 8-month program has around 60 bilingual participants, who are mainly professionals from major foreign and Japanese companies. Each team prepares a business plan, which is presented in English to a panel of judges and clients. This group work not only improves participants international communication skills, but also their know-how in the areas of marketing, finance, and presentation skills, all of which makes JMEC a very attractive opportunity.

Daijob Global Recruiting is committed to continuing to support JMEC and all who aim to participate in business on the global stage.
Overview of the Daijob Career Advancement Support Campaign
●Application Period:from Wednesday, September 13, 2017 to 18:00 on Tuesday, October 10, 2017
●Prizes:JMEC Business Training Program
     1 winner will receive free admission to the program (worth 125.000 yen)
     4 winners will be given a 50% discount off program fees (worth 62,500 yen)
●How to Apply: Follow this link to apply: https://www.daijob.com/skillup/jmec/index.html
For a more detailed report, click here(Japanese only) → https://www.daijob.com/skillup/jmec/index.html
*** For details on application requirements, please check the campaign website
For a more detailed report, click here(Japanese only) →第24回Japan Market Expansion Competitionプラチナスポンサーとして協賛

---
---