News & Report
NEWS2016/09/09
Daijob becomes Platinum Sponsor for the 23rd Japan Market Expansion Competition.
Contributing to the development of Global professionals.
Daijob Global Recruiting Co., Ltd., a subsidiary of Human Holdings Co., Ltd, will once again be the Platinum Sponsor for the 23rd Japan Market Expansion Competition.

By receiving support from the Chamber of Commerce and Industry of 18 different countries, JMEC provides competitive practical business training for up-and coming business executives by helping to expand the business activities of foreign companies in the Japanese market.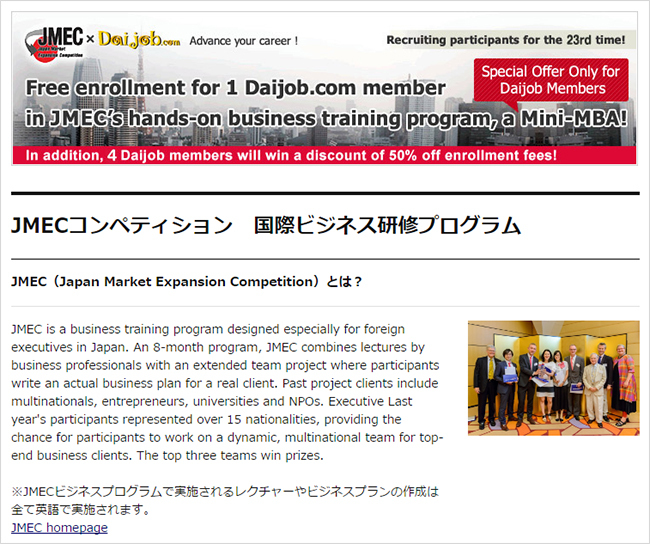 There will be approximately 60 bilingual professionals attending this annual program which lasts for 8 months. The entire program will be in English, and the attendees will be split into teams and construct a business proposal. Once the proposal is complete, the teams will give a presentation to the judges and clients.

By attending this program, one will have the opportunity to work with professionals from different occupation, industry, and cultural background. By doing so, it will eventually lead to acquiring international communication skills. Not just the communication skills, through the construction of the business proposal, one can also acquire the skills of marketing, finance, and presentation giving.

As Daijob Global Recruiting is contributing to the event JMEC is hosting, the "Daijob Career Improvement Campaign" will be conducted. During this campaign, a total of 5 lucky Daijob members will be able to take part in the JMEC program. Out of the 5 winners, 1 will be able to participate in the program absolutely free (Valued 125,000 JPY). The remaining 4 winners will receive a 50% discount to attend the program.
By contributing to this event, Daijob continues to implement their mission "to increase the number of global talent and provide the best positions" by support people in their quest to work globally.

◆Recruiting Period
From September 7th until October 10th (6pm) 2016
Please apply through the campaign page below.→ https://www.daijob.com/en/skillup-jmec/
※You must be a Daijob member to apply.
For a more detailed report, click here (Japanese only) → 第23回Japan Market Expansion Competitionプラチナスポンサーとして協賛

---
---