News & Report
NEWS2016/07/05
Introducing a Brand New Business Matching Service for Foreign-Affiliated and Global Companies!
Find and seek for advice from a professional in the field of talent acquisition, labor, and legal work.
Daijob Global Recruiting Co., Ltd., a subsidiary of Human Holdings Co., Ltd. headed by Mr. Yuji Shinohara launches a new matching service called "Global Guide" on July 5th, 2016. The service will be available on the site Daijob HRClub which is an informational website for Human Resources Professionals.

■About the Daijob HRClub
"Daijob HRClub" is an informational website for Human Resources professionals of foreign-affiliated and global companies. The service launched on June of 2001, since then we have about 3,000 Human Resources professionals signed up. The website is filled with information regarding the behavior of global job-seekers, visa acquisition for Non-Japanese, contents regarding the job-search overseas, workshops and seminars aimed to create an opportunity to communicate with Human Resources professionals.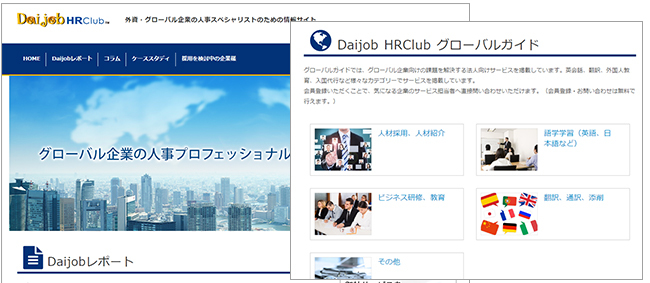 ■Characteristics of the new service, "Global Guide"
 (
https://hrclub.daijob.com/global-guide/
)
"Global Guide" is a service for users who are part of a global HR. The users are able to search and seek for advice from a professional involved in talent acquisition, labor, and legal work. We will provide a platform to allow the users to meet with a professional to find a solution for their needs. Information regarding the acquisition of a working visa for Non-Japanese workers, insurance for workers deployed overseas, globalization by constructing company documents in English or other languages for the overseas corporations, support for overseas advancement will be available through this platform.
The Professionals are able to post their specialty, profile, and past achievements for free. Once they become matched with a user, an expense will be incurred. The service will be considered as No-hire no-fee plan.
By looking into the keywords used by our corporate users on Daijob HRClub, 20% of our users come to the page through the following: 「外国人 社会保険」「高度専門職」「在留資格」. About 9 % of our users visit page through keywords related to the employment of Non-Japanese professionals. Finally, 8 % of our users visit the page through 「決裁書 英語」「人事通達 英語」「英語発音 矯正」which are keywords related to the English language. In addition, the following keywords, 「海外勤務者 健康診断」「海外 単身赴任」were also used to visit our page. As Domestic companies are planning on advancing overseas and the needs for Non-Japanese professionals are increasing, we believe this type of service will become high in demand in the near future.
For a more detailed report, click here (Japanese only) → 外資系・グローバル企業特化型 ビジネスマッチングサービススタート

---
---