News & Report
REPORT2016/06/13
Hosting the Career Fair for Global Professionals, The 28th Go Global Career Fair!
Daijob Global Recruiting Co., Ltd., a subsidiary of Human Holdings Co., Ltd. headed by Mr. Yuji Shinohara, will be hosting the "28th Daijob Go Global Career Fair". The event is aimed for Japanese and Non-Japanese bilingual professionals searching for a job and for foreign-affiliated, global companies searching for the right global professional.
【Date/Time】July 8th 2016(Fri)16:30 - 21:00 [Free Admission/Free Re-entry]
【Location】Otemachi Sankei Plaza 4F
【Participating Companies】Amazon.com, Inc.、Oracle Corporation Japan、IBM Japan, Ltd.、Hewlett-Packard Japan, Ltd.、FUJITSU LIMITED、SEKISUI MEDICAL CO., LTD.、Foresight Group Japan K.K.、ZigZaGame Inc.、Bosch Corporation、Mitsubishi Fuso Truck and Bus Corporation、SERVCORP Japan K.K.、Oxford University Press、International Committee of the Red Cross、RALPH LAUREN CORPORATION JAPAN ...and more global companies across a range of industries.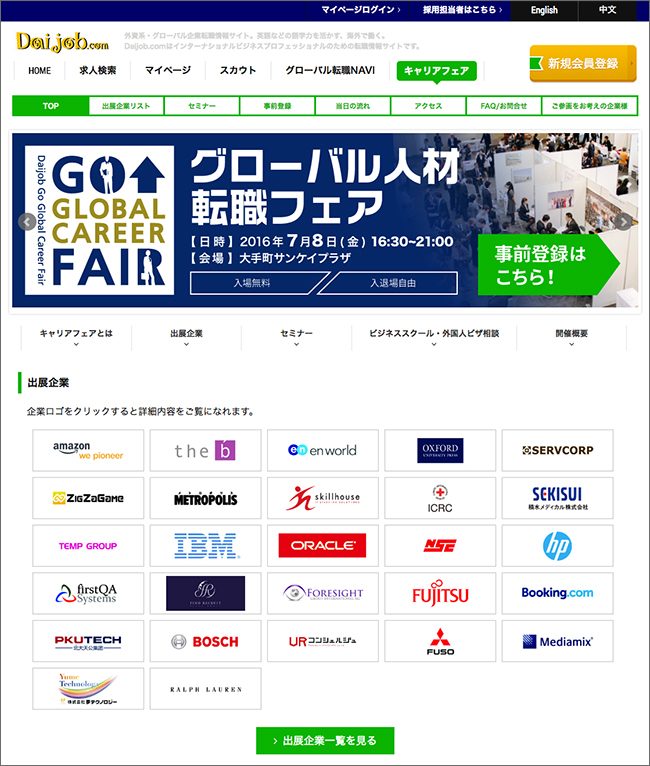 For the event this time, there will be major information and communication companies attending, as well as companies in the IT industry. Also, many companies in the industry of medical and automobile makers will be attending the fair. The industries mentioned has the Global Job Postings to Job-seekers Ratio for April 2016 at 2.0, which is record high.

In addition, to support our job-seekers find their ideal job for foreign-affiliated and global companies, there will be free seminars as well. One is from Global Talent Producer, Mikako Suzuki, titled "Successful Interview: Human Resources' Perspective".
For a more detailed report, click here (Japanese only) → Daijob Go Global Career Fair for Global Professionals @Otemachi

---
---