News & Report
NEWS2016/03/31
Japanese and Non-Japanese bilingual professionals from 63 countries gather to find a new job.
Results of the 27th Go Global Career Fair.
Daijob Global Recruiting Co., Ltd., a subsidiary of Human Holdings Co., Ltd. headed by Mr. Yuji Shinohara, hosts the Go Global Career Fair, a job fair for bilingual professionals in Otemachi Sankei Plaza on February 2016.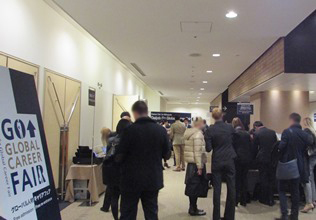 A total of 32 booths were available for the job-seekers. Regarding the exhibiting companies, 13 foreign-affiliated companies, 17 domestic companies, visa consultant Acroseed Co., Ltd, and Globis University exhibits the 27th Go Global Career Fair. For this time`s career fair, we had a total of 780 job-seekers attend which is record high compared to the other career fairs in the past hosted in Otemachi Sankei Plaza. A total of 4 seminars were also available for the job-seekers this year by Mr. Atsutoshi Hagino of Ministry of Foreign Affairs, Ms. Mikako Suzuki a Global Talent Producer, Mr. Brian Cathcart of Globis University, and Ms. Ayaka Yasumoto of Japan International Cooperation Agency (JICA).

Bilingual Professionals looking to work for an international organization or looking for improvement in their career gathered for this event.

By requesting our job-seekers to take part in our survey, we have received a total of 246 completed surveys. By looking into the results, about half have experience working overseas, and within them, 72% have study abroad experience. About half of the job-seekers with overseas experience are between the ages of 22-25. We believe they have already found a job after graduating university while studying abroad. In addition, about half of the job-seekers with experience of working abroad has worked for more than 3 years.



Both Japanese and Non-Japanese job-seekers want to work for a global company to make use of their language ability. Most Japanese job-seekers have answered "I want to work overseas" and "The average salary is high."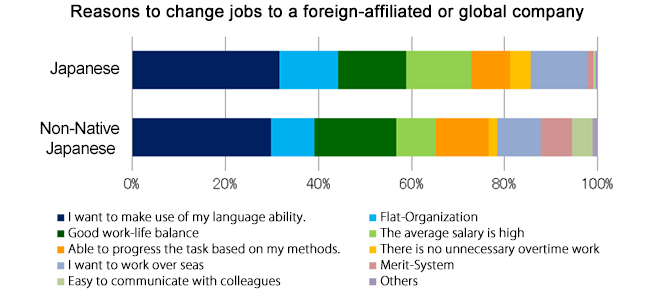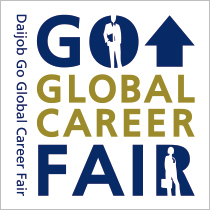 The Daijob Go Global Career fair is a job fair for bilingual professional looking to change their jobs. Annually, the career fair is hosted 3 times; it is an international career fair where professionals from 63 different countries attend.

Date: February 19th, 2016 (4:30pm to 9:00pm)
Venue: Otemachi Sankei Plaza
Participants: Bilingual job-seekers(Career Change・New Graduates)

For a more detailed report, click here (Japanese only) → 語学を活かせる職場を求めて日本人・外国人63ヵ国のバイリンガル人材が集結

---
---