News & Report
NEWS2015/12/02
New Partnership with International Student Identification Card, "ISIC Japan".
Providing Job Opening Information to Foreign Exchange Students in Japan.
Daijob Global Recruiting Co., Ltd., a subsidiary of Human Holdings Co., Ltd. headed by Mr. Yuji Shinohara, has a new partnership with ISIC Japan, a member group of the ISIC Association. This association is known for being the only ones publishing an international student identification card which is approved by UNESCO.

Through this partnership, Daijob Global Recruiting will provide ISIC Japan job information from CSJ/Career Start in Japan to ISIC Japan`s page called, ISICareer. ISIC provides discounting services in 125,000 places worldwide and within it, there are 42,000 service and vacations becomes an opportunity for students to experience different cultures. In order to fulfill the needs and hopes of foreign exchange students looking for opportunities to work in Japan, we have decided to start this partnership with ISIC Japan, by providing global positions.
ISICareer is a service only for ISIC Card holders.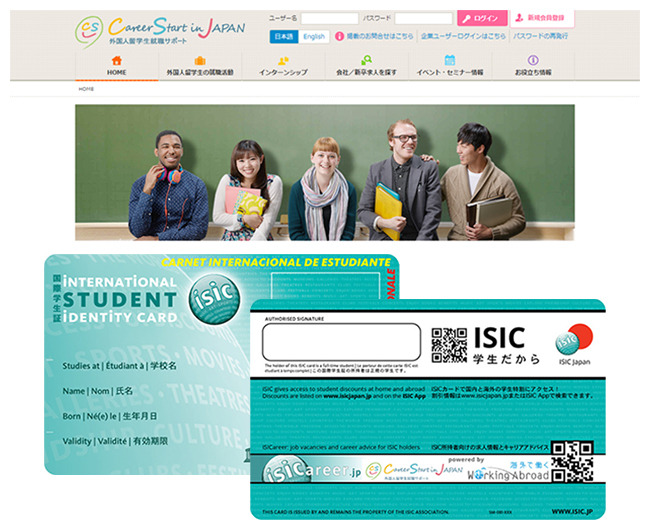 ■ISICareer is a service only for ISIC Card holders.
-A jobsite made for foreign exchange students studying in Japan hoping to work as well.
-Contents to provide information and advices regarding the Japanese job-hunting process explained. Also, interview videos of other foreigners working in Japan and sharing their experiences are available as well.
-Internship position information also available.

■What is ISIC Japan?
-Japan`s only member group of non-profit organization, International Student Identity Card (ISIC).
-Also publishes and sells International Youth Travel Card (IYTC) and International Teacher Identity Card (ITIC) in Japan.

For a more detailed report, click here (Japanese only) → 国際学生証発行団体「ISIC Japan」とパートナーシップ締結

---
---