News & Report
NEWS2015/11/27
Specialized Scouting Service for Recruiting Potential Non-Japanese Candidates
Becoming the bridge for companies and Non-Japanese that hope to work In Japan.
Daijob Global Recruiting Co., Ltd., a subsidiary of Human Holdings Co., Ltd. headed by Mr Yuji Shinohara, starts a brand new scouting service. Due to the needs of Non-Japanese workers in the service industry and small-to-medium businesses, this scouting service is created in order for companies to approach Non-Japanese jobseekers that are looking for a new job or a career change. The name of this new service is called, "Specialized Scouting Service for Recruiting Potential Non-Japanese Candidates"
As the number of tourists coming into Japan increases, the needs of language ability are very high in the service industry. Not just the big corporates, but due to the global expansion of the small-to-medium size businesses are increasing as well. Which means the needs for Non-Japanese that are able to communicate in Japan and abroad will increase which is why this new service starts.
The targeted, "Potential Non-Japanese" will mainly be recent grads or graduate students that have studied in Japan. In our database, over 15,000 potential Non-Japanese are actively searching for a career-change. Out of them, over 60% lives in Japan. Also about 70% have Japanese ability above business level. Through this service, we provide a platform to match Non-Japanese job seekers hoping to work in Japan and corporates focused on expanding overseas and satisfying outside tourists visiting Japan. We are aiming to gain 120 companies by the end of 2015.
◆Service Summary: Potential Non-Japanese Scouting Service
It is possible to directly approach Non-Japanese Job-Seekers on our database by searching their resume that is made public anonymously.
※This service does not include job postings, only resume searching and scout mail send outs.
◆Fee
 100 Scout Mails= \89,000(No Tax)~
◆User Element of Scout Mail Targets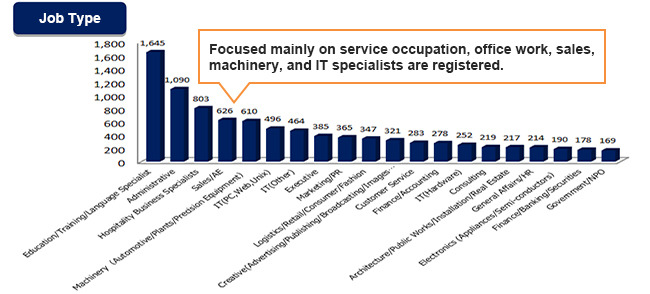 For a more detailed report, click here (Japanese only) → 「外国人ポテンシャル採用 特化型スカウトサービス」開始

---
---