News & Reports
NEWS2015/09/15
The 26th Go Global Career Fair @ Akihabara UDX
We are hosting seminars for women looking to improve their career
Daijob Global Recruiting Co., Ltd (Head Office: Minato-ku, Tokyo, operators of jobsite for bilinguals Daijob.com, is hosting a career fair to connect Japanese/non-Japanese bilingual professionals to both foreign-affiliated companies operating in Japan and global Japanese companies. This will be the 26th Daijob Go Global Career Fair.

【Date/Time】October 9th 2015(Fri)16:30 - 21:00 [Free Admission/Free Re-entry]
【Location】Akihabara UDX 2F AKIBA SQUARE
【Participating Companies】 Intel K.K., Enigmo Inc., Oracle Corporation Japan, Oxford University Press, Intersoft K.K., MINISTRY OF FOREIGN AFFAIRS Recruitment Center for International Organizations, KDDI Group Overseas Subsidiaries, YUME TECHNOLOGY CO., LTD., FUJITSU COMMUNICATION SERVICES LIMITED and more global companies across a range of industries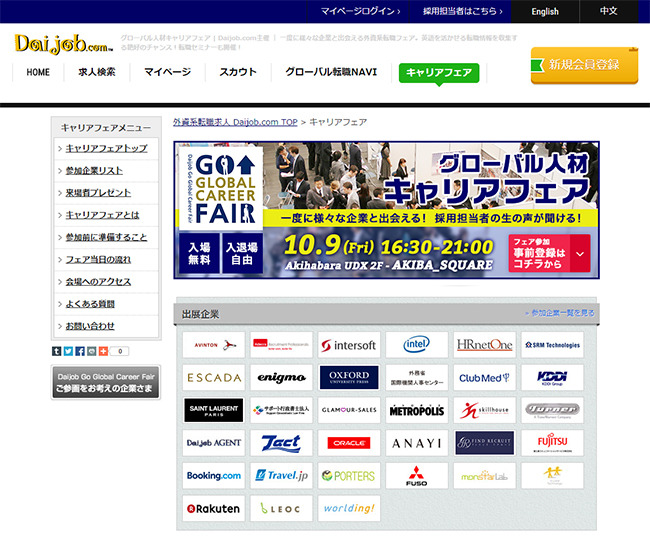 For this time`s Career Fair, there will be seminars aimed to improve the career paths of women. The seminar is hosted by two females who built up their career through foreign affiliated companies. It is filled with contents that are very appealing for women aiming to be successful in foreign affiliated companies.
Part 1: The Secret to Writing an English Resume
Former director of HR Department at a foreign affiliated company, Mikako Suzuki gives her third seminar. This time is regarding the method of writing up an English Resume. Her seminars are so popular that many people will even stand to listen. Having the experience of the hiring process in a foreign affiliated company, she will share the secrets of writing an English resume from the perspective of a HR professional.
Part 2: Tips for Women to Succeed at Foreign-affiliated Companies
The career development in a foreign affiliated company, the basic is to think on your own and take action. However, what are the methods for women to develop their career? Rumi Odo, currently an AML compliance officer and senior vice president of Citibank Japan Ltd, will share her method of career development and the secret of her successful career.
For more details, click here (Japanese only) → グローバル人材転職フェアDaijob Go Global Career Fair@秋葉原UDX

---
---