News & Reports
REPORT2014/05/15
The Global Job Openings to Job-Seekers Ratio in April 2014: 1.28
The "Construction" occupation and industry types both have a high ratio
The operators of bilingual job board Daijob.com, Daijob Global Recruiting Co.,Ltd, have created a summary of the Job Openings to Job-Seekers Ratio for the end of April 2014. The Global Job Openings to Job-Seekers Ratio is a calculation of the supply-demand balance between job openings which require business conversation level in at least 2 languages and the number of job-seekers who are equipped with that ability (No. of Job Openings / No. of Job Seekers).
◆Global Job Openings to Job-Seekers Ratio by Occupation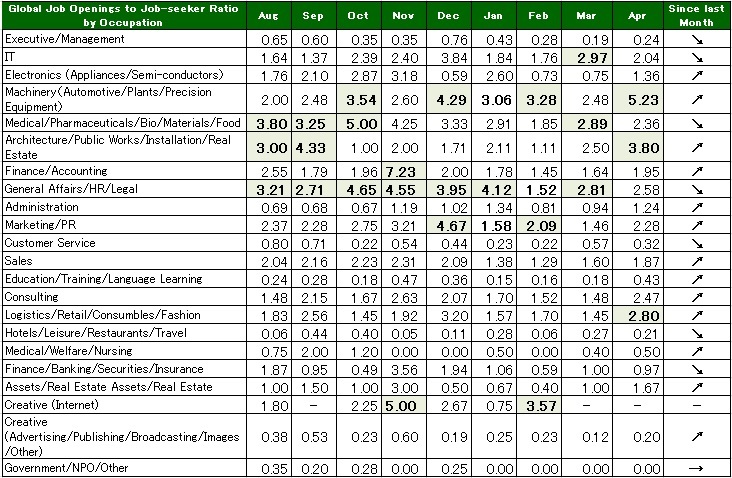 If we take a look at the ratio according to occupation at the end of April, the category of "Machinery (Automobile/Plant/Precision Equipment)(*)" takes the top position at 5.23. This is followed by "Architecture/Civil Works/Real Estate" at 3.80, and "Logistics/Retail/Consumables/Fashion" at 2.80. "Machinery (Automobile/Plant/Precision Equipment)(*)" has maintained a high average ratio of 3.22 since August 2013, and at least 20% of job postings in this category have been in design or CAD design. However, the number of "sales engineer" jobs rose by 2.5x from March to April, resulting in a high ratio of 5.23 for the entire category.

◆Global Job Openings to Job-Seekers Ratio by Industry

Daijob.com also calculated the balance of job-seekers with business level Japanese and English with the number of job openings which require these skills in each industry. Here, the highest ratio was seen in the "Electricity/Gas/Heating/Water" industry at 3.33. This was followed by "Architecture/Real Estate/Rental Services" at 2.69 and "Agriculture, Forestry and Fisheries/Mining" at 2.33.

This month saw a high ratio for the "Construction" occupation type and industry. The ratio for the occupation type last month came in at 1.9, while the industry came in at 2.5. At the beginning on April the government announced measures to accept more foreigners to make up for the lack of people working in construction in Japan. Unfortunately, it seems as though there is still a severe lack of people in the industry who can speak both English and Japanese to at least business level.

(*):This category is made up of positions in 12 subsets: designers/CAD designers/CAD operators/plant designers, manufacturing technicians, sales engineers/service engineers, project/product managers, software designers (control systems), programmers (control systems), basic research developers, evalutors/testers, manufacturing managers, quality managers and factory managers.


---
---