News & Reports
NEWS2016/03/04
English Improvement Campaign for IT Engineers.
One-on-one and other instructions in Cebu Island, supporting the attendance of Business English Program
"Daijob Agent" a service by Daijob Global Recruiting Co., Ltd., a subsidiary of Human Holdings Co., Ltd. headed by Mr. Yuji Shinohara, will start a new campaign "English Improvement Program for IT Engineers"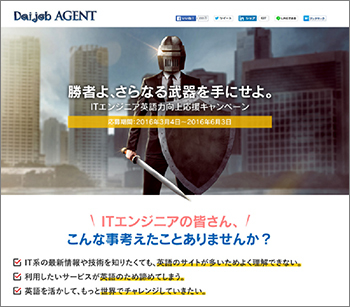 As the lack of IT engineers within Japan continues, the government arranged a preferential treatment in order to attract more Non-Japanese IT engineers from overseas. Due to this program, the number of Non-Japanese IT engineers has increased.
Also, as the globalization of domestic Japanese companies is becoming more active we are expecting the opportunities of IT Engineers to work in a global atmosphere to increase.

In order to work in a global atmosphere it is a must for one to understand other cultures and to be able to work together in a melting pot organization, which means, just being able to speak English will not be enough.
So Daijob, not just supporting the change jobs we have decided to support IT Engineers that has landed a new position through Daijob Agent. The reason is for one to be able to negotiate, express, and to be able to handle global business in English.
Overview of the "English Improvement Support Plan for IT Engineers"
■Campaign Duration
March 4th, 2016 (Fri)~ June 3rd, 2016(Fri)
■Available Plans
We will provide up to 200,000 JPY in order for you to succeed in your new position.
 ① One-on-one English lesson in Cebu Island(Max of 9 Hrs/Day)
 ② Online English Lesson(Select from the three: 50mins (Weekdays), 25mins (Weekdays), and 50min (Weekend). )
 ③ English Lessons in Japan(Custom-made lessons for IT Engineers)

■Application Requirements
Applies for the campaign, and must be an IT Engineer in Japan who successfully found a job through「Daijob AGENT」
■Campaign Page
http://www.daijob.com/it-campaign/
※When applying, please read the information carefully.
●About Daijob AGENT
Daijob AGENT launches on September of 2013 which is a service of talent introduction. The service is for business professionals hoping to work more globally, and the career-change support consultant will support and lead to success. Not just Japanese, English, or Chinese language ability, there are consultants with many different backgrounds.
---
---